Friday Update March 26, 2021
Posted by Yegor Beljovkin on Friday, March 26, 2021 at 9:17 AM
By Yegor Beljovkin / March 26, 2021
Comment
326 is the number of existing single family homes for sale in El Paso County. (This is on Saturday, yesterday it was 296). Add builder inventory to that and our grand total on the PPMLS comes in at 441 houses. Median price in March so far is $410,000 up from $403,000 in February. That's for a county of 740,000 people, and Realtor population of about 4,000 that seems to be growing daily because yo, it's easy money over here player!
---
Interest rates are not at record lows anymore but are still stupid low. Anyone complaining about a 3% interest rate should stop and then look at this chart:
https://www.macrotrends.net/2604/30-year-fixed-mortgage-rate-chart
---
If you've been keeping up with this blog then you understand how low interest rates have allowed homeowners to refinance existing mortgages into funny little payments. Those low payments and the current pricing on our very limited inventory is keeping a lot of people from selling and moving. Thereby keeping inventory low. It's kind of like a self perpetuating problem. Meanwhile we have multiple buyers for pretty much every single property below say $500,000. Homes selling for above listing price, sometimes by 15% over, with ridiculously large appraisal gap coverages remains the norm. As an agent working with buyers right now there are so many memes that illustrate the situation perfectly.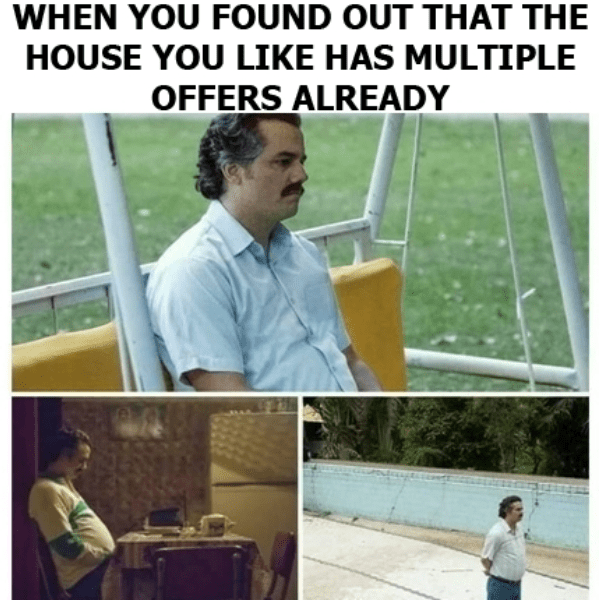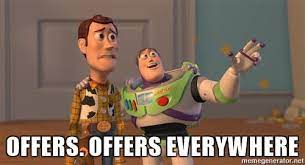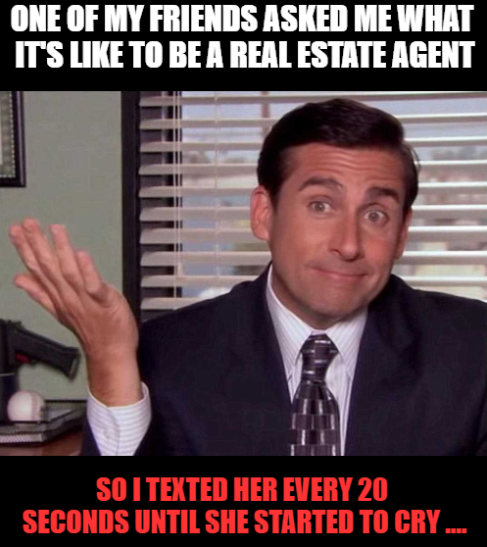 If you have talked to me about buying a home in the last few months and I'm not following up with you often enough, or not sending you the kind of properties you'd like to see, know it's not because I don't like you or because I don't care. It's because there is nothing for me to show you! If there's something you want to see, or questions you have please know I'm always happy to help you. However the focus for myself, and anyone else trying to make ends meet in this business has been and continues to be on getting listings onto the market.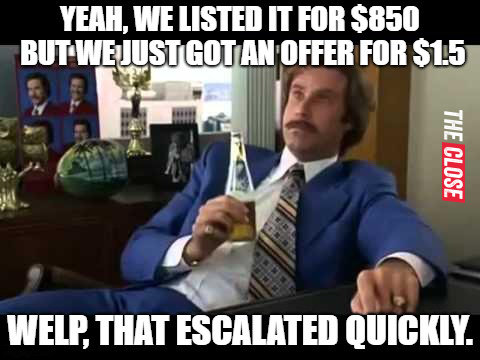 ---
---
Something that came up in conversation this week with another agent is a topic that doesn't get enough discussion. The topic of corporate ownership of single family homes and how this impacts affordability and accessibility for normal people. Today roughly 66% of the single family housing stock is owned and occupied by the owner, leaving about 34% of single family homes as rentals. Many of these are owned by individual landlords and that's not really the topic of discussion here as small landlords who own 1, 2, 10, even 50 rentals do not have the ability to move markets. Companies that hold 1000s or tens of thousands of units however do have that power.
The way I see it there are a couple of different interests in play here. One would be companies like Blackstone and similar REITs that hold residential real estate as a way of producing dividends and value for their share holders. Blackstone alone holds close to 400 Billion USD in real estate right now. And it's just one of a number of conglomerates that helped mop of the foreclosure mess of 2009 by buying up a huge chunk of that inventory and converting them into single family rentals. On the one hand that had the positive effect of cleaning up the foreclosed properties, driving prices back up which restored equity positions and confidence in the real estate market. On the other hand those single family homes have essentially been removed from the pool of properties that normal people can buy. These corporate interests play the long game and understand that yielding 8% returns on single family rentals is wildly better than buying bonds or hoping for the best in the stock market. Not to mention the tax benefits of being a corporate landlord. So these companies buy and buy real estate without ever really selling it, which thins the pool of available properties for the average American to buy.
---
The second model would be large rent to own entities such as Home Partners of America. We have some local variations of the same thing as well as the old school bandit sign renegades that you've likely seen on street corners in lower income areas. Before diving too far into this rent to owns aren't illegal, unethical, or even shady. It's just a lease with an option to buy the property at the end. Generally people that enter these types of arrangements have the intention but not the current ability to buy the property. Maybe their credit needs work, maybe there is a tax issue holding them back, maybe they just need to save up for a downpayment or whatever. The rent to own gives them housing now with the option to buy it later. That option price is written into the lease and agreed upon literally a year or more in advance.
So how could this be a bad thing? Again this puts the average home buyer up against a corporate interest with extremely deep pockets. These companies have an agreement with their tenant that guarantees them a profit regardless of initial purchase price so as a regular buyer with limited buying power competing against these companies is extremely difficult. But hey the goal is to help people achieve home ownership right? Sure, however only roughly 50% of the people that enter these rent to own agreements actually buy the property. So this leaves the other half for the company to repeat the process with which again ties up inventory causing further increases in pricing due to lesser availability of housing stock.
So between absorbing a ton of our inventory and driving prices up this leaves us to ponder these questions. How much of America's residential housing should be owned by corporate interests? What would this country look like if 40% of residential homes were owned by corporations? 50%? How much of an impact on the housing market should a handful of companies be allowed to have? What does this do for concentration of wealth and the wealth gap?
These are all question bigger than I as an agent can answer. But I think a discussion on this would be prudent.