Friday Update April 22, 2022
Posted by Yegor Beljovkin on Friday, April 22, 2022 at 3:05 PM
By Yegor Beljovkin / April 22, 2022
Comment
This one is gonna be brief because I'm going to the money museum for free admission at 4pm. They have the American Numismatic Society money museum here right next to Colorado College where you can learn all about the history of the most common medium of exchange. I'm excited.
Big news, inventory is way up from last week. We're at 517 single family existing homes on market in El Paso Co today. That's a solid 20%+ from last week and the highest level we have seen since roughly the start of November. Does this mean the market is crashing? No. It means November of last year we had the same numbers. Is shit getting mildly funky out there? Yes it is.
What's funky?
I go out last week to show a home listed at 725k and it sells in one day for 50k over asking with like a 70k appraisal gap. At the same time some of my friends in the industry report little or no showings on their listings.
Seems like maybe the crack smoke is starting to wear off a little bit and we're having to price things more in line with yesterday than with tomorrow.
This is a good thing.
Month to date we have 889 sales with a median sales price of $485,000. Last year month to date we had 986 sales with a median price of $425,000.
This is part of a national trend of declining sales numbers as inventory levels remain low and prices and interest rates both push higher.
Now, is today a terrible time to buy a house or what? It sure is kinda shitty, selling is a lot more fun. BUT. Let's do a simulation. To do this I'm using a calculator you can also use here:
https://www.calculator.net/rent-vs-buy-calculator.html
Alright. Assumptions. You can see the assumptions I made on rough market numbers below.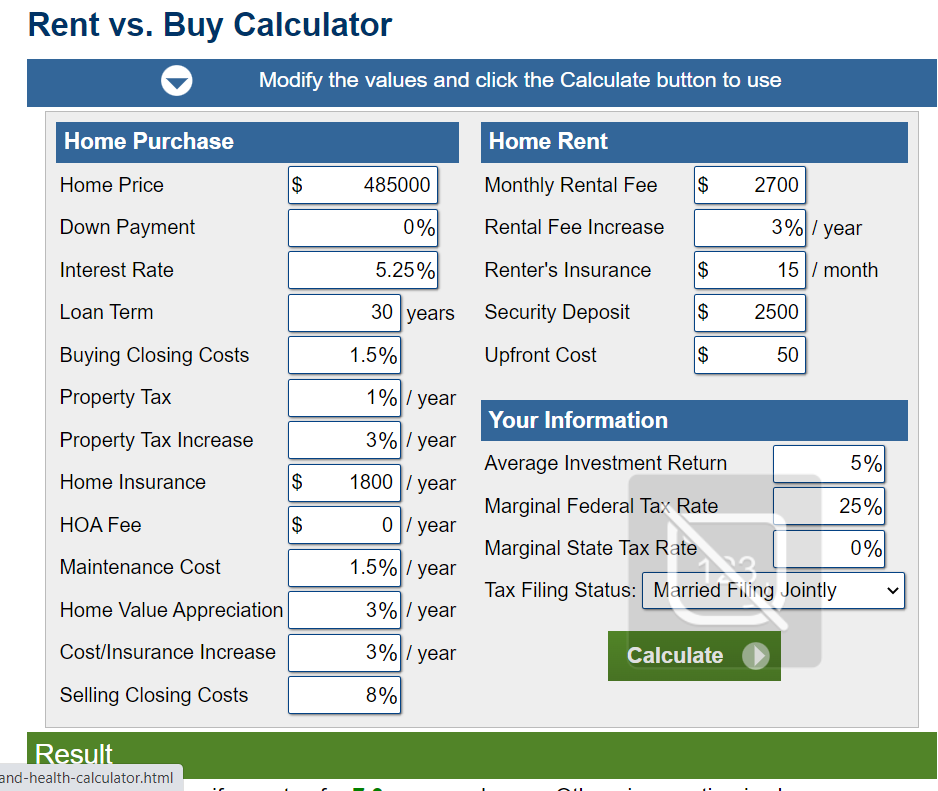 You can see we're using 0% down financing for this example to simplify stuff. If you have a VA loan add your funding fee to this. If you're doing CHFA account for mortgage insurance. But this is a good level to make oranges comparable to oranges.
What happens on the number picture?
7 years or longer. This is what a normalizing market looks like. For all the people that bought a house and turned it over 3 years later for a massive profit, congratulations, but that's not normal.
Real estate is a long term investment with a ton of hidden benefits that are not shown in these charts or graphs. However it is not always a good idea to buy a house if you have to sell it a year or two later. Actually that's exactly why apartments exist.
Key take away, is the real estate market nose diving? No. Should you speculate your primary residence the way you speculate DOGE coins? No. Be mindful of what the mean is and find yourself on the right side of it as we return to it.
And if you're on the wrong side of it look out for our mailers and give us a call, we can help.